Asset Library
Unlock the power of your assets
The Asset Library is Brandgility's built in DAM (Digital Asset Management) system. A centralized repository for storing, organizing, managing, accessing, and distributing digital assets. These assets typically include photos, videos, audio files, graphics, presentations, documents, and other media files. The Asset Library streamlines the process of managing and distributing brand assets, ensuring that everyone has access to the correct materials they need to represent the brand consistently and effectively.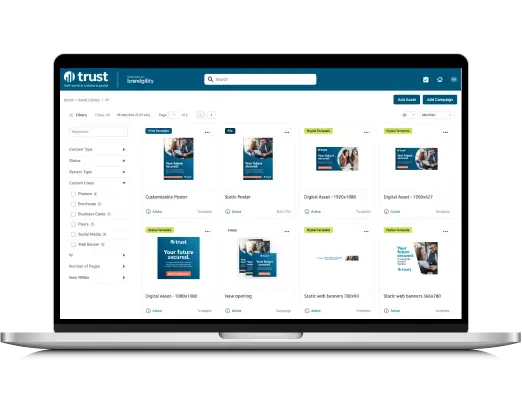 Centralized Storage
Store everything in one place.
Access Controls
Control who can access which asset.
Easy to Find
Categorize your assets with metadata.
On-brand materials for market
While providing a digital asset management as part of its platform, Brandgility's Brand Center is much more than a DAM. It is a full-scale storage-to-distribution system built to help brands empower their admins and end users to create, customize, and activate. This process starts by having key content all in one secure, easy-to-navigate place - the Asset Library. Brandgility is built to integrate with any third-party DAM and also offers Adobe plugins for seamless template creation and customization
Store
Import all types of media for multichannel digital and print production
Bring together files from across your organization to a single location
Sync with your third-party DAM
Keep creative assets secure in a password-protected digital vault
Regulate who has access to which files through secure permissions
Organize
Manage all your creative assets in one simple-to-search place
Group and order creative assets for quick and easy access
Tag for metadata-based retrieval
Easily access creative assets with lightning-fast search functionality
Quickly update and organize your library with the latest branding assets
Book your Brandgility demo
See why some of the world's biggest brands trust Brandgility.
We would love to show what the platform can do.