Generative AI
Brandgility
AI Assistant
Brandgility harnesses the power of an 'AI Assistant' to revolutionize the creation and customization of marketing materials. This intelligent assistant, embedded within the platform, is adept at generative AI techniques, opening up a realm of creative possibilities. For image generation, it synthesizes visuals that are not only high-quality but also perfectly aligned with brand aesthetics and messaging. When it comes to copywriting, the AI Assistant crafts compelling texts, ensuring that the communication is both effective and consistent with the brand's voice.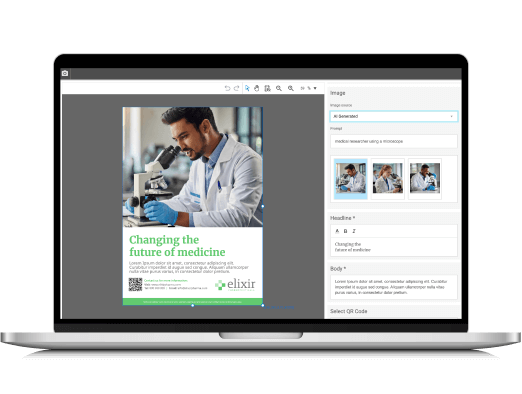 AI Image Generation
Unleash the power of AI Image Generation with Brandgility, revolutionizing your visual content by creating stunning, brand-consistent images effortlessly.
AI Copywriting
Transform your content with Brandgility's AI Copywriting, crafting compelling, brand-aligned text that captivates your audience and enhances your messaging.
AI Translations
Bridge language barriers effortlessly with Brandgility's AI Translations, ensuring your brand's message is conveyed accurately and resonates globally.
AI Content Variations
Maximize your content's impact with Brandgility's AI Content Variations, effortlessly adapting and optimizing your materials for a multitude of audiences and markets.
On-brand materials for market
AI Image Generation
Automated Creativity: AI can automatically generate high-quality and brand-aligned images for your marketing content, reducing dependency on graphic designers and accelerating the content creation process.
Customization: Tailored images that resonate with different audiences can be produced, ensuring that the visual content is always relevant and engaging.
AI Copywriting
Enhanced Messaging: AI can craft compelling and persuasive copy that aligns with your brand's voice, enhancing the effectiveness of your marketing messages.
Efficiency: Automatically generated copy can streamline workflows, allowing your team to focus on strategic activities rather than time-consuming writing tasks.
AI Translations
Global Reach: AI-driven translations can help in customizing content for different geographies, ensuring that your marketing messages resonate with diverse global audiences.
Consistency: AI can maintain brand and message consistency across various languages, ensuring that the essence of the message remains intact.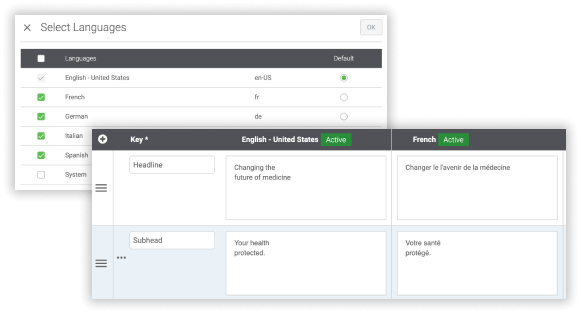 AI Content Variations
Adaptability: AI can automatically create multiple variations of content, allowing for A/B testing and adaptation to various platforms and audience segments.
Optimization: By analyzing the performance of content variations, AI can help in optimizing the content strategy to ensure better engagement and results.
Book your Brandgility demo
See why some of the world's biggest brands trust Brandgility.
We would love to show what the platform can do.