Self-Service Collateral Portal
Empower your workforce to customize collateral safely
The Self-Service Collateral Portal in Brandgility empowers your workforce and partners to independently create, customize, and distribute marketing and branding collateral while adhering to established brand guidelines. The portal streamlines the process of producing marketing materials for all channels and ensures brand consistency across all outputs.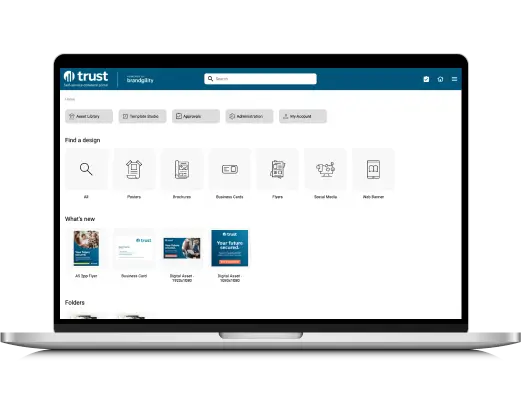 Find
Scale to meet all size and dimension requirements
Customize
Customize multiple assets at once across campaign
Activate
Navigate platform and localize content in any language
On-brand materials for market
The time between campaign delegation and updated content entering the marketplace shortens when the right internal teams have easy access to production through the Brandgility Self-Service Collateral Portal. Everyone from intern to brand manager can quickly customize and activate content while staying on brand.
Find
Make pre-approved branding elements readily available for smooth end-user creation and workflow
Use metadata to help end users quickly search for and locate assets for customization and activation
Search and create in multiple languages for simple localization
Customize
Allow end users to instantly modify branded templates for market
Turn master templates into masterpieces through asset customization
Scale content to meet size requirements while keeping layouts intact
Adapt multiple assets at once with Brandgility's patented kitting feature
Activate
Download and share final digital and print content for multichannel access
Upload content to social media and social media management systems
Send high-resolution PDFs directly to your favorite printer
Share output in multiple dimensions
Secure content with an ISO 27001-certified company
Book your Brandgility demo
See why some of the world's biggest brands trust Brandgility.
We would love to show what the platform can do.