Template Studio
Build templates that lock in your brand guidelines
Brandgility's Template Studio module is a fully integrated feature for efficiently creating "no code" smart templates for all types of sales and marketing material. Smart templates created with Template Studio can include many dynamic features such as automated content adjustment and data population, which streamline the creation of personalized and data-driven materials. With its user-friendly drag & drop interface, Template Studio makes template creation easy, allowing users of varying technical skills to produce professional-quality materials. Pre-existing designs created in Adobe tools including InDesign, Photoshop and Illustrator can easily be imported into Template Studio, via our Brandgility plugins, and turned into templates in seconds.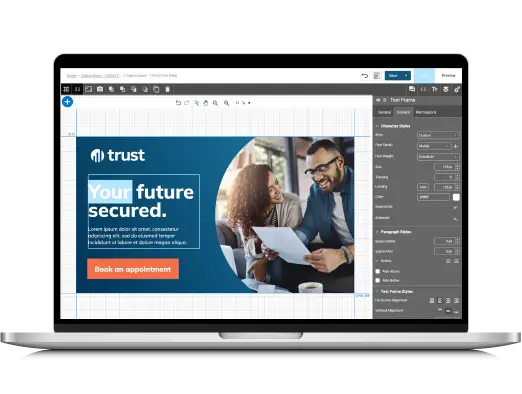 Design
Continue to design the way you always have with your existing Adobe tools
Out of the Box
Simple changes to your layers and text boxes allow your designs to become working templates as soon as they're imported
New vs. Old
All your existing collateral can be imported using Adobe plugins
Training
Training videos for our plugins are available directly within the platform for template authors via the help menu
On-brand materials for market
Unlike most creative automation platforms, the capacity for CMOs and brand managers to empower their teams to create master templates comes standard with Brandgility. Creative assets can be templatized and then shared with internal teams for customization and activation of print and digital output.
Build
Allow internal teams and outside agencies to to build branded templates using stored creative assets
Build from scratch with intuitive drag-and-drop UI
Lock in brand guidelines for consistent, professional-looking content
Pre-populate important information
Allow for localization and personalization around the globe
Templatize
Integrate Adobe Creative Cloud files by connecting to built-in plugins
Set and manage roles to provide proper team access to master templates
Share the right files with distributed teams for fast, on-brand production
Easily manage company-wide campaigns through templates
Relax! Your brand reputation is protected across channels
Book your Brandgility demo
See why some of the world's biggest brands trust Brandgility.
We would love to show what the platform can do.